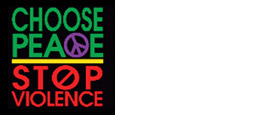 Youth violence and victimization has become a growing concern for our entire community. Whether it is bullying, gang activity, date rape, sexual assault or youth crime and juvenile delinquency, it is affecting our youngest and most vulnerable citizens.
Choose Peace Stop Violence is a community collaborative whose mission is to educate, engage, inspire and empower youth to take action and bring about positive change for the purpose of preventing youth crime and violence.
The Youth Anti-Violence Summit,  brought together more than 200 elected officials, students, law enforcement, faith-based leaders, the business community, charitable foundations, educators, the media, and other stakeholders interested in and committed to developing and participating in a community-wide collaboration on youth violenceThe purpose of the Summit was to begin to unite the community in an effort to address youth violence. It was a chance for community partners to identify strategies and develop action plans that promote community action.
From this groundbreaking event came Choose Peace/Stop Violence, a county-wide anti-violence movement whose vision is a violence-free community.
Choose Peace provides a process to engage adults, mobilize young people, activate sectors and influence decision makers to create safe, healthy and thriving environments for our children and families.
To learn more visit: www.Choosepeacestopviolence.org