Safe Zone is a place for GLBTQ* youth to come for support and answers. Acknowledging your sexuality is an important step toward becoming a healthy, happy adult.
Click here to read more about youth sexual awareness and orientation.
If you or someone you know is looking for support and resources that serve the GLBTQ community in Broward County, please dial 2-1-1 or 954-537-0211 anytime or visit the agencies/groups below.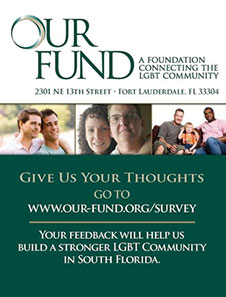 Support Services in Broward County
Safe Schools South Florida
SSSF is committed to making schools safer for all students, regardless of sexual orientation, gender identity, or gender expression  by: empowering youth through a variety of direct and indirect programs;  training educators and administrators to recognize and intervene in anti-sexual minority bullying and harassment; and educating the public to be aware of and better understand the issues facing LGBTQ youth in our society.
www.safeschoolssouthflorida.org
954-771-4799
Broward County School's Gay Straight Alliance (GSAs)
The Florida GSA Network promotes safe schools by helping GSAs form and grow through peer support, leadership development and student empowerment.
Contact Person: Teri Williams, MS
Project Bridge-Prevention Specialist
Office of Prevention Programs, Broward County Public Schools
Office number: 754-321-2568 ext.2720
Email: teri.s.williams@browardschools.com
High Schools with GSAs
Blanche Ely Senior High
Boyd Anderson Senior Highl
Coconut Creek Senior High
Cooper City Senior High
Coral Glades Senior High
Coral Springs Senior High
Coral Springs Charter High
Cypress Bay Senior High
Dave Thomas Center
Deerfield Beach Senior High
Dillard Senior High
Everglades Senior High
Flanagan Senior High
Fort Lauderdale Senior High
Hallandale Senior High
Hollywood Hills Senior High
J.P. Taravella Senior High
McArthur Senior High
McFatter Technical Senior High
Miramar Senior High
Monarch Senior High
Northeast Senior High
Nova Senior High
Pembroke Pines Charter Senior High
Piper Senior High
Plantation Senior High
Pompano Beach Senior High
Somerset Academy Charter
South Broward Senior High
South Plantation Senior High
Stoneman Douglas Senior High
Stranahan Senior High
Sunset School
Sun Serve
SunServe's program for family and youth especially targets the needs of homeless and "at risk" gay, lesbian, and questioning youth. SunServe develops specific services to reach out to LGBTQ youth where they are. That includes educating families toward acceptance of LGBTQ and questioning youth as well as intervening to reduce the harmful effects of family rejection on LGBTQ and questioning youth by providing a safe place for young persons to develop self acceptance and build life affirming skills.
954-764-5150
PFLAG-Parents and Friends of Lesbians and Gays-Broward Chapter
"PFLAG" meetings are open to all parents, families and friends of LGBTQ youth and adults. Our meetings are strictly confidential. We provide a safe place for all to tell their "stories" and who have a desire to understand the journey that gay people travel on the road to "coming out."
Meetings on the 2nd and 4th Tuesday of the Month, 7-9pm
Sunshine Cathedral at the SunServe Building, First Floor
1480 SW 9th Ave.
Fort Lauderdale, FL 33315
Contact person: Peter Robinson
Peter@DanandPeter.com
Pride Center at Equality Park
The Pride Center provides numerous support groups, programs and services for the GLBTQ community.
2040 N. Dixie Highway
Wilton Manors, Fl. 33305
954-463-9005
http://www.glccsf.org/